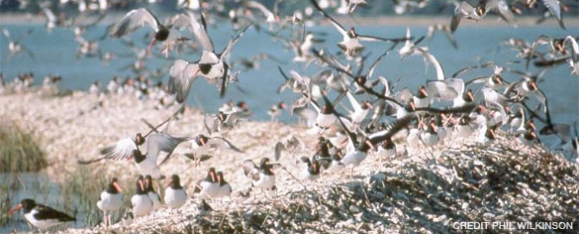 AMOY Research & Monitoring in South Carolina
Research
Statewide Breeding Surveys
Four statewide surveys in South Carolina for American Oystercatchers were conducted from 2001-2003 and in 2008.  In 2002, 407 breeding pairs were documented, in 2003, 397 pairs and in 2008, 453 pairs.  The 2008 higher number may be a result of increased effort not a true increase in number of pairs.  There were also approximately 380 non-breeding oystercatchers documented each year during these surveys.  These non-breeding oystercatchers congregate in flocks during the breeding season.  The Cape Romain Region supported a majority of South Carolina's breeding pairs and non-breeding flocks.  Although historically oystercatchers may have nested primarily on front beaches, only 28% of the breeding pairs were on barrier island beaches, 27% on estuarine islands and 45% on edge shell mounds.  24% of all pairs in South Carolina were on edge shell mounds adjacent to the Atlantic Intracoastal Waterway (AIWW).
Winter Roost Surveys
South Carolina winters a large proportion (over 1/3) of the eastern race of the American Oystercatchers.  During December of 1999-2002 ground surveys were conducted to provide baseline data on the abundance, age class partitioning and distribution of wintering American Oystercatchers in South Carolina. A mean of 3,536 were counted.  Eighty-nine percent of the oystercatchers in 2002 roosted on washed shell rakes and 9% had immature bill coloration. The Cape Romain Region had approximately 54% of South Carolina's wintering oystercatchers.
Enhancing Productivity of American Oystercatchers in the Cape Romain Region
To increase nest success of oystercatchers in this region, head-starting (i.e., artificial incubation of eggs with replacement just after hatching) is being piloted.  Nest success and chick survival were monitored at three study sites to quantify the effects of these techniques.  This is an ongoing project.
Breeding and Foraging Ecology of American Oystercatchers in Cape Romain NWR
The majority of American Oystercatchers in South Carolina make their nests on narrow, elevated mounds of oyster shells deposited naturally along the edges of bays by storms or formed artificially by boat wakes along the Atlantic Intracoastal Waterway (AICW). This study compared reproductive success of American Oystercatchers nesting along the AICW with those nesting on naturally formed shell mounds in Bulls Bay within the Cape Romain Region.  Additionally, attributes of foraging oystercatchers during the breeding season were examined.  For a full report see Janet Thibault's M.S. thesis.
Foraging Ecology of American Oystercatchers During the Nonbreeding Season
Density, size, and orientation of the primary prey (Eastern oysters) and the foraging behaviors of adults in three bays in the Cape Romain Region were compared. Results indicated that prey size, prey orientation, and the foraging behaviors of American Oystercatchers differed among bays. In addition, the foraging proficiency of adult and immature American Oystercatchers was compared.  For a full report see Christine Hand's M.S. thesis.
Health Assessment of American oystercatchers in Georgia and South Carolina
Oystercatchers may be an important indicator of ecosystem health because they depend on quality coastal breeding habitat and prey on bivalves, which can accumulate toxins and pathogens from the local environment. Data were collected from American oystercatchers in South Carolina and Georgia.  Eggs and prey items were collected from oystercatcher habitat for nutritional composition and contaminant analyses.  For the full report see link under SC Resources.
Banding
Color Banding
American Oystercatchers have been color banded in South Carolina since 2001.  They are trapped during the breeding season on nesting sites and during the winter with cannon nets.
American Oystercatcher Re-sighting Surveys
Banded oystercatchers have been re-sighted and recorded since 2001.   Annual surveys of all pairs in the Cape Romain Region are conducted to determine survival and movement.  Winter surveys for banded birds are focused in the Cape Romain Region but surveys south of Charleston are increasing.
South Carolina Banding Schemes
(there may be occasional variation in timing and leg placement of banding schemes)
2005-Present: Duplicate blue bands with white horizontal code (two white engraved horizontally-oriented letters/numbers) on upper legs

2004: Dark blue band with two white engraved letters/numbers on upper leg

pre-2004: Colors used: Red, Yellow, Blue, Green, White, Black, Magenta. Adult Birds: Upper Left: No band or one color band, Lower Left: Blue over USFWS metal band, Upper Right: No band or one color band, Lower Right: No band or one color band. Juvenile Birds: Upper Left: No band, Lower Left: USFWS metal band, Upper Right: No band, Lower Right: No band or one color band
South Carolina Contacts
Felicia Sanders – South Carolina DNR
Pat Jodice – South Carolina Cooperative Fish & Wildlife Research Unit, Clemson University