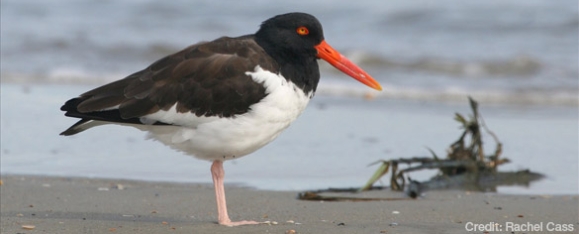 AMOY Research & Monitoring in Georgia
Research
In 2010 we completed a statewide beach nesting bird survey, and documented 116 territorial pairs of AMOY in the state.
During winter we visit known roost sites state-wide at least once for band re-sight efforts, and fly the entire coastline counting roost sites. These aerial surveys have documented between 500 and 1200 birds on the Georgia coast.
The wintering flock of AMOY in the mouth of the Altamaha River was used as a reference population as part of the NRDA post Gulf oil spill analysis. This involved placing radio-telemetry backpacks on 30 AMOY and tracking them for 6 months.
On St. Catherine's Island, Jen Hilburn and the staff on Little St. Simons have been heading up a study on incubating AMOY eggs to determine the viability of this technique to increasing productivity.
Past Research
Banding, Georgia DNR
All Georgia birds, other than chicks in 2001, have been banded from one general area with 4 specific locations. The general area is the mouth of the Altamaha River. We have banded on a shell bar near the south end of Sapelo Island, on the south bar of Wolf Island, on the north end of Little St. Simons Island, And on the south end of Little St. Simons Island. Based on re-sightings, oystercatchers fly between all of these locations regularly. We use a net propelled by two canons to capture small flocks of roosting birds during the non-nesting period (September-February).
Most of Georgia banded re-sights have been during the non-breeding season, and in locations in general proximity to the banding sites. We have re-sighted roughly 75% of the birds we have banded. We have a situation of large fall flocks (200-600 birds) at the mouth of the Altamaha in the fall (Sept.-October), dispersing into smaller flocks for the winter from Cape Romain to Cumberland Island. Re-sights temporally and spatially outside of our banding efforts include:
Breeding male on Little St. Simons Island GA, 2002 and 2003.
Breeding pair on Little Egg Island Bar in the Altamaha River GA, 2003. This pair was captured in the same net in September 2002. Humorous speculation is that they "met" under the net, then bred locally.
Same net as #2 had an adult female that bred all the way up on Muskeget Island near Nantucket Island in Massachusetts in 2003.
Two GA birds wintering at Cape Romain Refuge winter 2002/3, and one fall 2003.
Subadult female on Cumberland island during summer 2002.
One subadult bird seen as a transient on the shore of NJ in spring 2002.
One adult bird seen as a transient on the NJ shore in the spring of 2003.
January 2003 re-sight on a shell bar behind Cumberland Island of a bird we banded in Sept. 2002.
Banding
We have banded 112 AMOY throughout Georgia in the last year and a half. We have attempted to band all known chicks statewide. In 2010, we banded 21 chicks. In 2011, we banded 19 chicks in GA and 2 in North Florida. In 2010 and 2011, we banded AMOY with vertically-oriented alphanumeric codes. These are noticeably harder to read in the field than horizontal bands. Therefore, in 2011 we went back to using horizontally-oriented codes and are working through alpha-alpha codes with the first letter underlined.
Re-sighting of color bands
We have had a significant band re-sight effort over the last year on the Altamaha, with over 50 trips. We have documented 320 unique birds over the course of the year, including 233 banded in Georgia, 22 in MA, 28 in NC, 8 in NJ, 23 in VA, 2 in DE, and 4 in SC. This data will be used to model AMOY
use of the delta over the course of a year. Our highest single count was 532 birds in a single roosting flock.
We have seen both adults and subadult AMOY banded in NC and SC in Georgia.
The linked Excel file (under Resources in the sidebar) contains a list of color band combinations and re-sightings for birds banded in Georgia. Banding data were provided by The Georgia DNR. This dataset should not be published or distributed without permission.
Georgia Banding Schemes
(there may be occasional variation in timing and leg placement of banding schemes)
2011 – Present: Upper Legs (both left and right): Duplicate red bands with white vertical code (two white engraved vertically-oriented letters/numbers), Lower Left leg: USFWS metal band, Lower Right leg: no band
2004 – 2011: Duplicate red bands with white horizontal code (two white engraved horizontally-oriented letters/numbers) on upper legs
2003: Upper Left: USFWS metal band, Lower Left: No band, Upper Right: Large engraved Red band with a single letter, Lower Right: Green
2002: Colors used: Red, Yellow, Blue, Green, White, Black, Orange. Upper Left: Orange over Green, Lower Left: one color band, Upper Right: USFWS metal band over one color band, Lower Right: one color band
Georgia Contacts
J. Michael Myers – USGS Patuxent Wildlife Research Center – University of Georgia
Tim Keyes – Georgia Department of Natural Resources