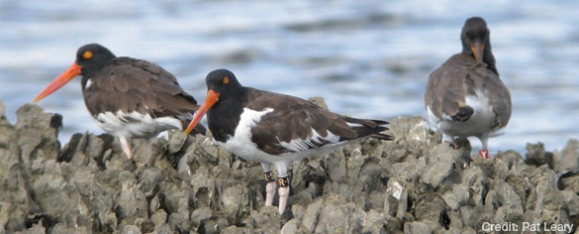 AMOY Research & Monitoring in Florida
Research
American Oystercatcher Habitat Restoration in Florida
Janell Brush (FWC) and Dr. Peter Frederick (UF)
Participants: Pat and Doris Leary, Amy Schwarzer, Jeremy Wood
Duration: 2011-2013
During Phase 1 of this project, we plan to 1) determine characteristics of AMOY foraging and roosting habitat in the Big Bend, 2) determine the most resilient places to perform habitat restoration and enhancement, and 3) develop a habitat restoration plan in concert with interested management agencies and stakeholder groups. In Phase 2, which will follow the completion of Phase 1 in 2012, we plan to 4) perform the restoration, and 5) monitor responses of AMOY and restored habitat. The use of a phased approach allows for the uncertainties in location and type of restoration activities, which will be addressed through Phase 1 activities and activities associated with an ongoing oyster research project. The study design of phase 2 depends too much on the results of Phase 1 and the concurrent project on oyster reef dynamics to be accurately developed at the moment. Here, we describe proposed activities and products for Phase 1 and, in less detail, project the likely goals and activities for Phase 2.
Objectives of Phase 1:
Identify coarse and fine-scale features of roosting and feeding habitat within the oyster reef complexes of the Big Bend that are biologically important to wintering AMOY.
In collaboration with concurrent oyster research efforts, determine the likely future effects of SLR on AMOY habitat requirements and determine the most resilient places to restore AMOY habitat.
Use the information from objectives 1. and 2. to develop a plan for restoration and expansion of oyster habitat that may increase overwinter survival of AMOY.
Objectives of Phase 2 (to be submitted in 2012):
Collaborate with management and funding agencies, local oyster harvest groups and the UF oyster project to implement the habitat restoration plan.
Measure characteristics of restored AMOY habitat.
Monitor responses of AMOY to restored habitat and near-term quality of restored habitat.
American Oystercatcher Monitoring
Janell Brush (FWC)
Participants: Pat and Doris Leary, Florida Shorebird Alliance Partners
Duration – ongoing as resources are available
Objectives
Within the Florida mark-resight study, estimate wintering and breeding AMOY apparent survival rates, population size, realized population growth rate and habitat use.
Determine site fidelity of nesting birds.
Monitor marked birds to determine distribution and movement patterns of Florida reared birds.
Band young and adults at the nest and determine areas suitable for conservation and management activities.
Florida Shorebird Alliance/Florida Shorebird Database
Florida Shorebird Alliance— In an effort to coordinate and expand coverage of shorebirds and seabirds in Florida, the Florida Shorebird Alliance (FSA) was created. The Florida Shorebird Alliance facilitates collaboration among agencies and organizations conducting long-term monitoring of shorebirds and seabirds across Florida. It provides a central location for data entry, compilation, and storage. The FSA is organized into regional partnerships that work locally to ensure important shorebird and seabird sites are surveyed and monitored. Information can be found at: www.flshorebirdalliance.org.

Florida Shorebird Database—The Florida Shorebird Database serves as a central repository for data collected on shorebirds and seabirds in Florida. It is an online database that allows users to submit and manage observations from monitoring beach-nesting shorebirds and seabirds, including American Oystercatchers. The database was launched in Spring 2011. These data are available online at: www.flshorebirddatabase.org.
Origin and Distribution of American Oystercatchers Wintering in Florida
Origin and Distribution of American Oystercatchers Wintering in Dixie, Levy and Citrus Counties in Florida (download PDF).
Banding
Florida Banding Scheme
(there may be occasional variation in timing and leg placement of banding schemes)
2012-present: Duplicate red bands with white vertical code (two white engraved vertically-stacked, horizontally-oriented letters/numbers) on upper legs
2004 – 2011: Duplicate red bands with white horizontal code (two white engraved horizontally-oriented letters/numbers) on upper legs
Florida Contacts