The Oytercatcher Diaries 2014
We are blogging about the breeding of the American Oystercatchers on the Texas coast!  Sneak a peak into the diaries at: http://gulfcoastbirdobservatory.wordpress.com  (search "Oystercatcher Diaries" on the blog)
Banded AMOY spotted in Mexico!
The first resight of a banded American Oystercatcher in Mexico!  Luis Enrique Benítez Orduña and Karla Rodriguez López of Environmental Management Coordination of Pemex Exploration & Production in Ciudad del Carmen, Campeche, México spotted a green-banded oystercatcher!  It was one of our triangle-coded bands: Dark Green (CHK).  They saw it on 27 Oct 2013 and again on 5 Jan 2014 at Playa Norte in Ciudad del Carmen, Campeche, Mexico.
Their first record of an American Oystercatcher was on 29 September 2012, but this if the first banded oystercatcher they've seen.  They monitor birds at IBAs (Important Bird Areas) in "Laguna de Términos", documenting over 80 species of birds including migrating birds (with over 30,000 pictures in their files!)
The oystercatcher, Dark Green (CHK), was originally banded at Cape Lookout National Seashore as a chick on 3 July 2013.  Its sibling (Dark Green (CF8)), also banded on 3 July 2013, was last seen in Dixie County, Florida on 16 November 2013.  One of CHK and CF8's parents is also banded (captured in 2004) and has been observed wintering in Dixie County and neighboring Levy County.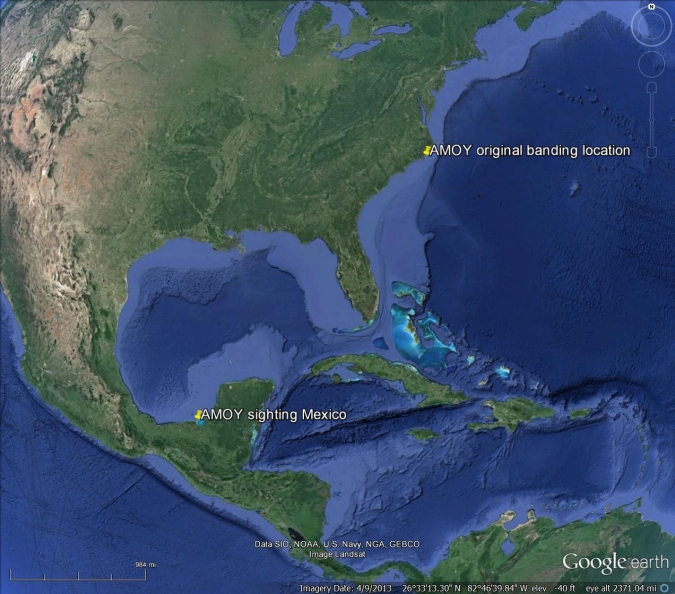 AMOY shot in South Carolina
A hunter recently reported finding a dead American Oystercatcher (Dark Green (W1)) while duck hunting. Riding the tidal currents, it floated in among his decoys. His hunting experience lead him to believe the oystercatcher had been shot.
Revision of BNA American Oystercatcher Species Account
The American Oystercatcher Working Group has recently revised the Birds of North America species account of American Oystercatchers.  The BNA account is an in-depth look at American Oystercatchers, including their behavior and ecology.  It is now available at:  http://bna.birds.cornell.edu/bna/species/082/articles/introduction