15th Anniversary of the AMOY Working Group: Commemorative T-shirts Available!
We had t-shirts made to help celebrate the 15th Annual Meeting of the American Oystercatcher Working Group! We currently have shirts left in sizes S, M, L, and XL. The cost is $20 for the t-shirt and shipping. Please contact Todd Pover if you are interested.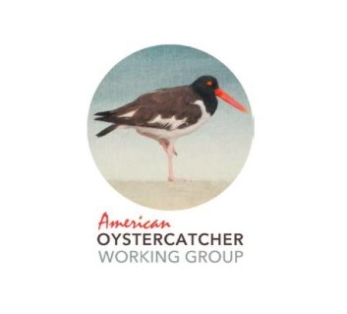 Front

Back
Digital and Audio Recordings Help Quantify Shorebird Disturbance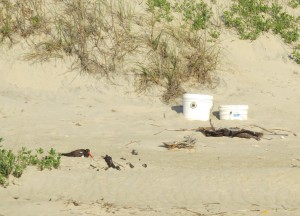 The Birding Wire has recently published Tracy Borneman and Dr. Ted Simons' work, using digital video and audio recording equipment to assess  responses  American Oystercatchers to anthropogenic disturbances on barrier island beaches of North Carolina, found here: Digital and Audio Recordings Help Quantify Shorebird Disturbance. Their original work, published in The Condor, can be found here.
Oystercatcher Symposium August 2015 – Call for Papers
The American Oystercatcher Working Group is sponsoring a special one-day symposium on
Oystercatcher Biology and Conservation in conjunction with the 2015 Waterbird Society annual
meeting in Bar Harbor, Maine U.S.A. We invite authors to contact us if they are interested in
contributing to this symposium and the published proceedings. Findings related to the biology,
conservation, and management of Western Hemisphere Oystercatchers are welcome. If you are
interested in presenting a paper at the symposium, please contact:
Pamela Denmon, 757-331-2760 x 112
American Oystercatchers Through the Seasons
The Conserve Wildlife Foundation of New Jersey (CWFNJ) is proud to release its first interactive GIS-based story map, "American Oystercatchers Through the Seasons", which brings to life the role New Jersey plays in the breeding, migratory, and wintering cycles of this charasmatic coastal species.
A Story Map is a web-based interactive GIS map embedded with multimedia content, such as text, photographs, and video. CWFNJ, working with GIS software developer ESRI and with financial assistance provided by a grant from the New Jersey Division of Fish & Wildlife, plans to make this Story Map the first of many, helping engage the public about New Jersey's rare wildlife in a dynamic and interactive way.
"American Oystercatchers Through the Seasons" tells the story about a species of migratory bird, the American Oystercatcher, which spends the summer breeding season along the New Jersey coast, but is present year-round along the southern New Jersey coast. Our state represents the northern limit of the species' winter range. While some New Jersey birds migrate during the winter to Florida, those that breed in New England during the summer may end up spending their winter here in New Jersey.
This Story Map also provides stories about individual banded birds, which have been tracked on journeys between New Jersey and southern states such as Florida, as well as between New Jersey and more northern states, such as Massachusetts.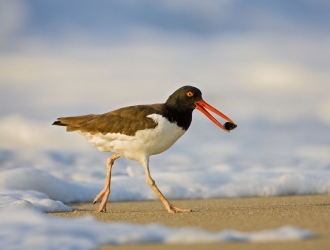 The Oytercatcher Diaries 2014
We are blogging about the breeding of the American Oystercatchers on the Texas coast!  Sneak a peak into the diaries at: http://gulfcoastbirdobservatory.wordpress.com  (search "Oystercatcher Diaries" on the blog)
Banded AMOY spotted in Mexico!
The first resight of a banded American Oystercatcher in Mexico!  Luis Enrique Benítez Orduña and Karla Rodriguez López of Environmental Management Coordination of Pemex Exploration & Production in Ciudad del Carmen, Campeche, México spotted a green-banded oystercatcher!  It was one of our triangle-coded bands: Dark Green (CHK).  They saw it on 27 Oct 2013 and again on 5 Jan 2014 at Playa Norte in Ciudad del Carmen, Campeche, Mexico.
Their first record of an American Oystercatcher was on 29 September 2012, but this if the first banded oystercatcher they've seen.  They monitor birds at IBAs (Important Bird Areas) in "Laguna de Términos", documenting over 80 species of birds including migrating birds (with over 30,000 pictures in their files!)
The oystercatcher, Dark Green (CHK), was originally banded at Cape Lookout National Seashore as a chick on 3 July 2013.  Its sibling (Dark Green (CF8)), also banded on 3 July 2013, was last seen in Dixie County, Florida on 16 November 2013.  One of CHK and CF8's parents is also banded (captured in 2004) and has been observed wintering in Dixie County and neighboring Levy County.