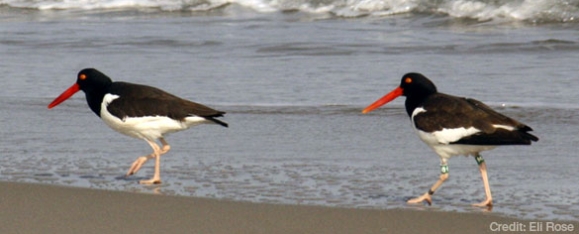 American Oystercatcher Banding and Re-sighting
Since 1999, over 3,000 American Oystercatchers have been banded. Color banding individual birds helps researchers learn about demographics, movement, habitat requirements, and survival, but only if people report the locations of banded birds. The working group maintains a database to provide a mechanism for researchers to efficiently enter and search records for banded American Oystercatchers. Members of the public and other observers can also report bands to the database through the form on this website. Please use the links to the left to help report bands accurately.
If you have seen a banded American Oystercatcher outside of the United States, please report it by emailing the date and location seen, observers' names, flock size, coordinates (decimal degrees preferred), and photos of the birds (if there are any) to Lindsay Addison.