2015 Meeting of the American Oystercatcher Working Group
The fifteenth annual meeting of the American Oystercatcher Working Group was 11 August 2015 at the College of the Atlantic in Bar Harbor, Maine, in conjunction with the 39th annual meeting of the Waterbird Society. In addition to our business meeting, we held an all day symposium  dedicated to oystercatcher research! We were also fortunate to have four colleagues from Mexico join us for our business meeting and oystercatcher symposium. Set in Acadia National Park this meeting, held in conjuction with the Waterbird Society, provided an excellent setting for learning, collaboration, and wildlife viewing! A big thank you to John Anderson for hosting us at College of the Atlantic and to Alex Wilke, Ruth Boettcher, Tracy Borneman, Sue Heath, Pam Denmon, Felicia Sanders and Ted Simons for organizing our meeting and symposium.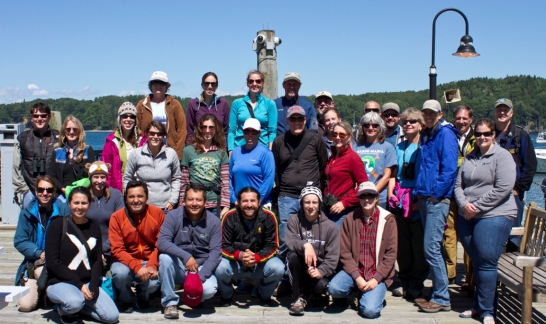 Schedule
Monday, 10 Aug:  Travel Day
Tuesday, 11 Aug:  Meeting Day
Wednesday, 12 Aug: Oystercatcher Symposium
Call for Papers
The American Oystercatcher Working Group is in the process of composing a special issue journal on oystercatchers in the western hemisphere. We will be accepting manuscripts for consideration through October 1, 2015. Please contact Pamela Denmon, 757-331-2760 x 112, if you are interested in contributing!
Presentations