2009 Meeting of the American Oystercatcher Working Group
The ninth annual meeting of the American Oystercatcher Working group was held 9-10 November 2009 in Oyster, Virginia and was hosted by Alex Wilke and Barry Truitt of The Nature Conservancy.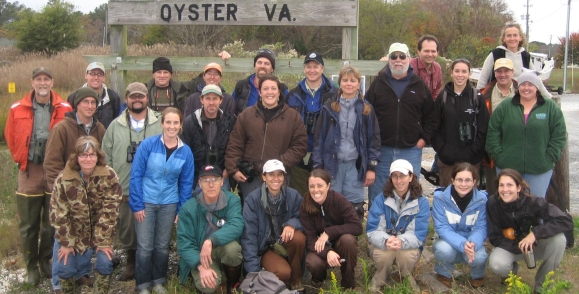 2009 American Oystercatcher Working Group Photo – Oyster, Virginia.
Back Row (left to right): Dave Allen, Adam Duerr, Brad Winn, Kris Fair, Jon Altman, Stephen Brown, Shiloh Schulte, Beth Wright.
Middle Row (left to right): Matt Boarman, Matt Bailey, Todd Pover, Kate Iaquinto, Ruth Boettcher, Barry Truitt, Jess Schulz, Brad Andres, Carissa Smith.
Front Row (left to right): Pam Denmon, Alex Wilke, John Weske, Felicia Sanders, Jessica Stocking, Becky Harris, Nicole Dewberry, Tracy Borneman.
Attendees missing from photo: Joelle Buffa, Amanda Daisey, Ilene Eberly, Tony Geiger, Walker Golder, Susan Heath, Jen Hilburn, Ellen Jedrey, Lila Joa, Jim Lyons, Sidney Maddock, Doug Mcgee, Charlie Muise, Sue Rice, Eva Savage, Ted Simons, Nuray Taygan, and Tom Virzi.
Presentations